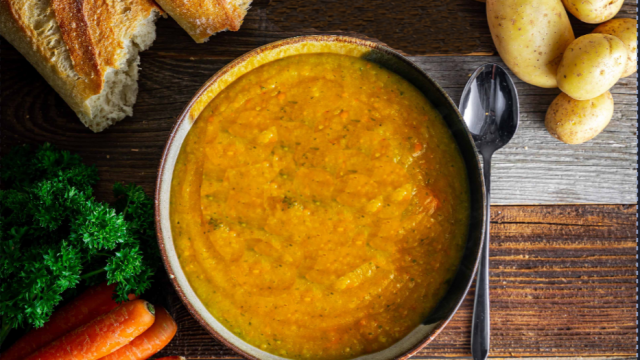 This mild curry uses red lentils which are an inexpensive source of protein and fibre. They not only cook quickly but are wholesome, nourishing, filling and taste really good! This nutritious easy meal can be thrown together in one pot with whatever vegetables you may have in your fridge. For extra creaminess and yumminess, replace some of the water for coconut milk. Hopefully there will be some leftovers!
Ginger – This root is an excellent remedy for nausea, morning sickness, upset stomach, indigestion, vomiting, motion sickness, and cramps.  It also has anti-inflammatory properties.
Cumin – Aids digestion and is considered an anti-carcinogen.
Turmeric – Turmeric is a powerful anti-inflammatory, antioxidant, and anti-cancer spice.
Garlic – Garlic has beneficial effect on heart disease, cancer, and infectious diseases.  It decreases cholesterol levels, detoxifies the body, stimulates the immune system.  Eat garlic raw and regularly for maximum benefits.
Bay leaf – Bay leaf is considered an anti-inflammatory, an antioxidant, and is good for the digestion and helps to reduce flatulence.
Sweet potato – This versatile root vegetable is one of the best sources of beta-carotene (which gets converted to vitamin A in the body), vitamin B6, vitamin C, powerful antioxidants, potassium, anti-inflammatory nutrients, and blood sugar-regulating nutrients. They can help strengthen eyesight, boost immunity, are great for the skin and membranes and protect against diseases like cancer and heart disease.
Ingredients
1

tbsp

butter or coconut oil

1/2

onion, chopped

1

clove

garlic, chopped

2

tsp

turmeric powder

2

tsp

curry powder

2

tsp

cumin powder

1

tbsp

ginger, grated

1.5

cup

red lentils*

4.5

cups

water

1

bay leaf

1

medium sweet potato, cubed

1

medium bunch kale, stems removed (chop stems and add near the beginning of cooking; chop kale leaves and add near the end of cooking)

1/2

tsp

salt
Optional
1

can

coconut milk in place of some of the water

*soaking the lentils for a few hours before cooking will make them more digestible but you don't have to do this step
Instructions
Melt coconut oil or butter in a medium size pot. Add onion, garlic and spices and sauté gently for 5 minutes.

Add soaked lentils, bay leaf and water. Bring to a gentle boil and remove any foam from the surface.

Turn down the temperature to simmer.

Prepare vegetables and add "hearty" veggies (potatoes, carrots, etc.) to the pot. Add "soft" veggies (the greens) 5 minutes before serving.

Continue to simmer for about 30-45 min.

When lentils are very soft (like a puree) and veggies are cooked, add salt to taste.

Serve over brown rice, quinoa or cooked millet, or eat as a soup, or with whole grain bread.

Be creative: use whatever is in your fridge (chunks of zucchini, carrots, sweet potato, greens, mushrooms, cauliflower, potatoes, peas, eggplant)