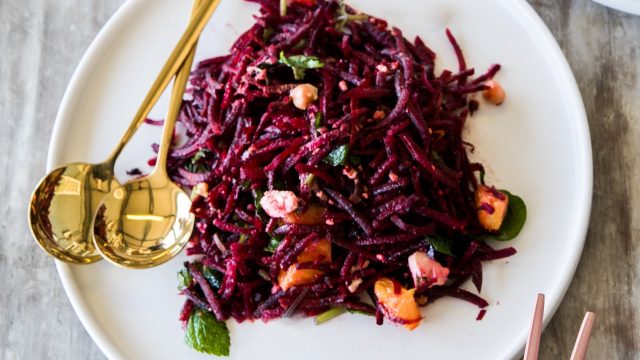 This colourful salad is perfect for picnics and potlucks. It makes a large amount, requires little prep work, and the sturdiness of cabbage means no soggy salad dilemma.  Surprise your friends and family with this unique tasty dish.Cabbage – The king of the cruciferous vegetable family, cabbage provides many anti-cancer nutrients.  It increases the rate at which the body breaks down excess estrogen via the liver and helps improve digestion.Parsley – This herb is known as a diuretic and is useful for detoxification and digestion. Great for the kidneys, parsley is full of minerals, vitamins, fibre, and phytonutrients.Mint – This herb helps to relieve spasms of the gastrointestinal tract and gas.  It also contains compounds that may inhibit the growth or formation of cancer, and block the formation of allergies.Lemon Juice – With its antibacterial properties and high levels of vitamin C, lemon juice is a great addition to any recipe.
Ingredients
1

red cabbage

1

bunch

carrots

1

cup

parsley, chopped

1

cup

mint, chopped

1

cup

dried fruit (e.g. figs, dates, raisins, prunes, cherries, etc)or currants (chopped)

1

cup

pumpkin seeds
Dressing
1/4

cup

olive oil

1/4

cup

lemon juice + zest

1

tbsp

honey or maple syrup

1

clove

garlic, minced

1

tsp

cinnamon

2

tsp

cumin

1 1/2

tsp

salt

(to taste)

Pinch cayenne, optional

2

tsp

rosewater, optional
Instructions
Whisk all dressing ingredients together and set aside.

Using a mandolin or very sharp knife, slice the cabbage as thinly as possible.Place in a very large bowl.

Slice the carrots horizontally into rounds, or as desired, add to bowl.

Add chopped parsley, mint and dried fruit.

In a dry skillet over medium heat, lightly toast the pumpkin seeds until fragrant. Remove from heat and set aside.

Pour dressing over the veggies and herbs and toss well. Add pumpkin seeds and fold to combine.

Season to taste (the salad may need more salt at this point). Let stand at room temperature for about 30 minutes, toss before serving and enjoy.