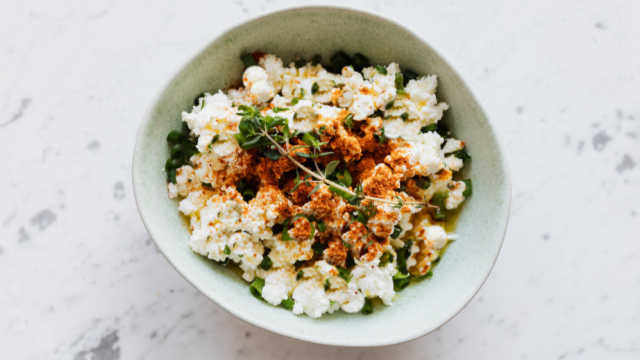 Ingredients
1 1/2

cup

cup quinoa

1

tbsp

olive oil

1

tbsp

butter

1

onion, finely chopped

4

cloves

garlic

1/8

tsp

cayenne pepper

3

cups

broth (chicken or vegetable)

1/2

cup

white wine

1

lb

spinach

4

oz

goat cheese

Parmesan, parsley and lemon zest for garnish (optional)
Instructions
Rinse quinoa in a fine colander until your water turns clear.

Add a small splash of olive oil and water in a skillet. Sauté spinach until tender. Set aside.

Heat butter and olive oil over medium heat. Add onion and sauté until tender. Add garlic and cook for one minute. Add quinoa, wine and cayenne pepper. Cook until the wine is almost evaporated, stirring frequently. Add enough broth to cover quinoa. Simmer uncovered over medium low heat. Add broth as the liquid absorbs and stir frequently. Cooking quinoa will take about 15 minutes.

Stir in spinach in last two minutes of cooking. Remove from heat and add salt, pepper and 3 ounces of the goat cheese. Stir.

Crumble remaining goat cheese, parsley, lemon zest and parmesan over the quinoa.Serves 8 as side dishes.
Notes
Nutritional Value of Select Ingredients
Quinoa – Even though it is technically a fruit, quinoa is called a "super grain" because of its uses and high nutritional value. It provides all the essential amino acids, and is also high in iron, vitamins B3 and B6, and phosphorus. It is gluten-free, makes an excellent substitute for rice or pasta in recipes, and can also be made as a breakfast cereal.
Goat Cheese – A great substitute for dairy cheeses, goat cheese less allergenic and is much easier for most people to digest. Cow's have four stomachs whereas goats and humans both have only one. We digest in more of a similar manner, allowing for better tolerance and digestion of goat milk products.
Spinach – This green is high in antioxidants, reduces the risk of cancer, is high in magnesium (for mood) and iron, is great for the eyes, etc. etc, etc. A nutritional bonanza. Eating spinach with a source of vitamin C (strawberries, grapefruit, tomatoes) help absorb the calcium found within.
Adapted from Cooking Quinoa – A Collection of the Best Quinoa Recipes by Wendy Polisi