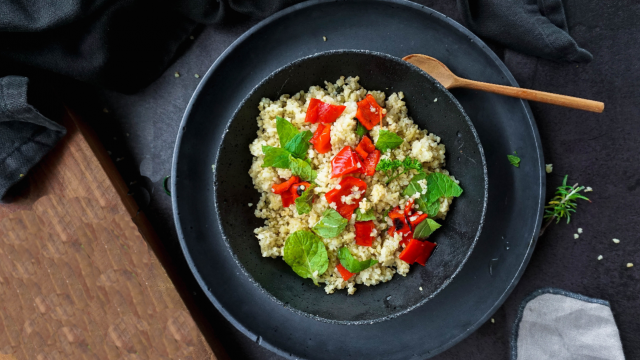 Versatile, delicious and filled with incredibly healthy ingredients, this salad will become a family favourite!
Quinoa – is considered a super grain as it is a complete protein with high amounts of calcium, iron, magnesium, vitamin B's & E. Gluten-free and easy to prepare you can use it in place of rice or pasta, as a cereal, in smoothies, sprinkled on salads, pilafs, risottos, even desserts.
Cilantro – may help to relieve nausea, indigestion, and bloating. It is considered anti-inflammatory and may help to remove heavy metals.
Garlic – anti-viral, anti-bacterial, anti-microbial, anti-fungal and anti-parasitic It decreases cholesterol levels, detoxifies the body, and stimulates the immune system. Eat garlic raw and regularly for maximum benefits.
Lemon Juice – With its antibacterial properties, high levels of vitamin C and detoxifying properties, lemon juice is a great addition to any recipe.
Pumpkin Seeds – These mighty seeds actually contain more iron than liver by weight, and are an excellent source of essential fatty acids (EFA's), protein, calcium, and phosphorus. The zinc they contain may be beneficial for prostate health.
Ingredients
1

cup

quinoa

1 - 2

cups

water

1

lemon, juiced

2

tbsp

olive oil

1

clove

garlic

2 - 3

green onions, finely chopped

1/2

cup

fresh cilantro or parsley, finely chopped

2 - 3

medium tomatoes, chopped

1/2

cup

toasted pumpkin or sunflower seeds

Salt

(to taste)

Optional: a few sprigs of fresh mint, finely chopped
Instructions
Rinse quinoa well in a sieve. If possible, soak quinoa 6 – 10 hours on counter in plenty of water. Drain, and cook in 1.5 cups water until all water is absorbed. If quinoa is not soaked, rinse well and cook in 2 cups water until all water is absorbed. Chill.

Make the dressing in a large salad bowl by combining the lemon juice, olive oil, garlic and salt.

Add cooled quinoa and stir well. Add the green onions, cilantro, tomatoes, pumpkin seeds and mint (if using). Toss gently.
Notes
This can be made into a complete meal by adding cooked beans, nuts, seeds, more chopped veggies, cooked chicken or fish.
Winter Quinoa Salad
Prepare as above, omitting tomatoes and adding:
1-2 cups cooked*, diced sweet potatoes or squash or corn
1 cup cooked black beans
1 tsp ground cumin
Try lime juice in place of the lemon juice for a different flavour.
*To cook sweet potato or squash, cut into cubes and roast with a bit of olive oil at 325F until tender (about 30 min) or steam on the stovetop (about 25 minutes). Allow to cool before tossing with remaining ingredients.