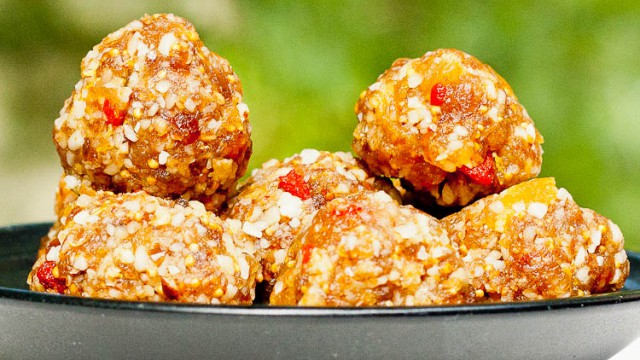 Ingredients
2/3

cup

dates, softened

2/3

cup

nut or seed butter

(e.g. tahini, almond butter, peanut butter, etc.)

1/4

cup

honey or maple syrup

2

tbsp

extra-virgin coconut oil

(can substitute butter or flax oil)

1/3

cup

hemp, whey, or rice protein powder*

1/2

cup

cocoa or carob powder*

3/4

cup

ground flax seeds

1/4

tsp

salt

1

cup

add ins of nuts, fruit and seeds

1

tsp

cinnamon

(optional)

1

tsp

vanilla extract

(optional)
Instructions
Suggestions:

1/3 cup dried apricots, 1/3 cup chopped almonds, and 1/3 cup sesame seeds1/3 cup dried cherries, 1/3 cup walnuts, and 1/3 cup sunflower seeds1/3 cup dried cranberries, 1/3 cup hemp seeds, and 1/3 cup pumpkin seeds

To soften dates, put dried dates in a small saucepan with a bit of water, heat on low-medium, and mush together until pasty. Alternatively, soak for 15 minutes in hot water. Ensure all ingredients are at room temperature or coconut oil will get stiff and become difficult to blend. To make bars, first blend wet ingredients together in food processor, until the mix creates a ball. Then mix in protein powder, flax, cocoa, sea salt, and cinnamon. Press into a greased 9" x 9" pan and refrigerate, covered. After an hour, slice into squares and store in a sealed container. Will last two weeks in fridge, or freeze. (*note: can use a flavoured protein shake mix, by substituting for both these items)
Notes
Adapted from Linda White.
Nutritional Values of Selected Ingredients
Flax seeds – Flax seedsare a great laxative, and are high in essential fatty acids (EFA's) (when ground or chewed). They are full of anti-cancer lignans and phytoestrogens. The oil found in flax seeds can aid in reducing cholesterol and slow the progression or rheumatoid arthritis and atherosclerosis.
Honey – This is a natural sweetener that contains vitamins, minerals, and propolis. It is a great source of magnesium. A whole food, honey is an excellent replacement for brown or white cane sugar, which is detrimental to our health. Any sweetener, though, should be eaten in moderation, but when you do need to sweeten, try honey instead.
Tahini – Tahini is a fine paste of ground sesame seeds. By weight, sesame seeds are higher than liver in iron. They are also high in calcium, magnesium, protein, fibre, other vitamins and minerals, and EFA's.
Coconut oil – The oil from the coconut are monosaturates of the omega 7 family. Tropical oils have been part of a healthy tropical lifestyle for thousands of years, and are very stable for cooking.
Walnuts – These nuts contain beneficial polyunsaturated fatty acids that are great for the brain and lowering cholesterol. They are high in protein, fibre, minerals, and vitamins.