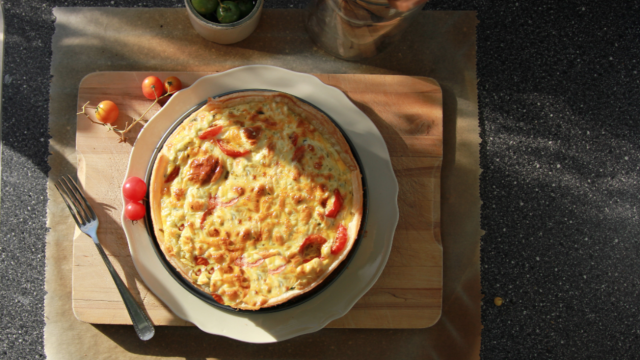 This quick, easy to throw together dish is packed with cancer-fighting nutrients. Turmeric is a powerful anti-inflammatory, antioxidant, and anti-cancer spice. Red peppers don't just add colour and sweet flavour, they are also rich in beta carotene and vitamin C. Eggs are a great source of protein, vitamin A, calcium, iron and zinc. Chives aid in digestion and are high in iron. This dish is amazingly versatile; use up whatever veggies and herbs you have on hand.
Ingredients
6

eggs

1 - 2

tsp

butter or coconut oil

1/2 - 1

tsp

turmeric

1

red pepper, diced

1/4

cup

chopped chives

1/4

cup

grated cheese

(optional)
Instructions
Melt butter or coconut oil in a stainless steel or seasoned cast iron pan on medium low heat. Sprinkle the turmeric into the melted fat. Sauté bell peppers and/or other vegetables in the melted fat for 2 minutes. Turn the pan to low.

Beat the eggs with a pinch of salt, and pour into the pan. Cover and let set. (approx.. 10-15 minutes). You may need to place the pan under the broiler for a minute or two to brown the top.

(If using cheese, sprinkle on top just before it sets)

Sprinkle the top with chives. Use a knife to loosen the sides of the frittata, turn onto a cutting board, and slice. Serve hot, or chill and serve cold.
Variations
Use mushrooms, zucchini, tomatoes, spinach, kale, dill, basil, cilantro, potatoes, onions, garlic, chives, sweet potatoes….