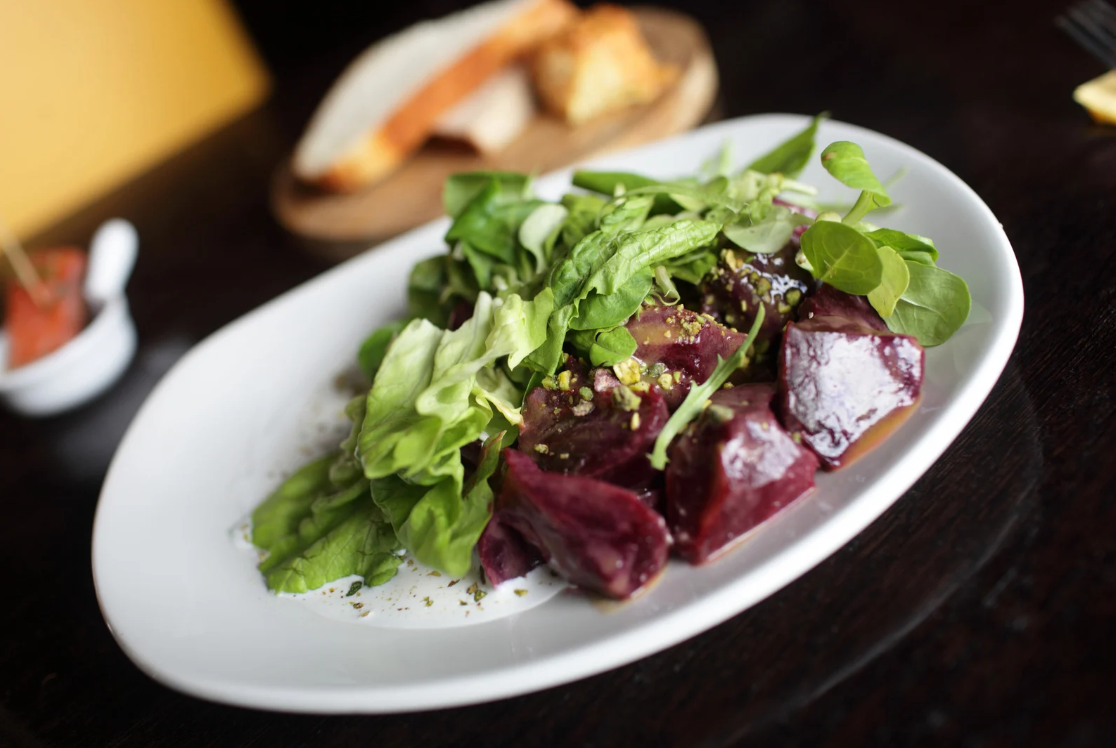 Ingredients
1

kg

fresh whole beets

1/4

large onion

2

tbsp

olive oil

1

tbsp

honey

1

tsp

Dijon mustard

2

tbsp

lemon juice, freshly squeezed

1/4

cup

pumpkin seeds

(toasting optional)

Generous pinch of salt

Baby spinach

(optional)
Instructions
Preheat oven to 450ºF. Peel beets; cut into batons about 3 inches long and ¼ inch thick. Set aside beet greens for serving (if purchased in tact). Toss beets and onion with olive oil; place on a cookie sheet. Roast for 20-25 minutes, stirring occasionally, or until onion is brown tipped. Cool to room temperature.

Stir honey with mustard in a medium bowl until combined; slowly whisk in lemon juice and salt. Add beets and onions, including any liquid; gently toss to coat.

If making ahead, cover and refrigerate salad for up to 2 days; bring to room temperature before serving. Serve on a bed of tender beet greens or baby spinach generously scattered with pumpkin seeds.
Notes
Nutritional Value of Select Ingredients
Beets – The beetroot is an excellent source of folic acid, and a great source of fibre, manganese, and potassium. It is an excellent tonic for the liver, has anti-cancer properties, increase bowel function, and decrease cholesterol levels. The greens are even higher in nutritional value than the roots; they are rich in calcium, iron, and vitamins A and C.
Onions – Because they are high in sulfur, onions help lower cholesterol, inhibit cancerous tumor growth, help manage diabetes, and are an anti-inflammatory, antibacterial, and antifungal food that are also a blood tonic. Eat them daily – raw or cooked.
Olive Oil – Cold pressed extra virgin olive oil is an excellent source of monounsaturated fatty acids, making this oil quite stable for medium temperature cooking. It has a good variety of vitamins and minerals, and can help lower LDL cholesterol, control blood pressure, and aid in diabetes.
Pumpkin Seeds – These mighty seeds actually contain more iron than liver by weight, and are an excellent source of essential fatty acids (EFA's), protein, calcium, and phosphorus. They are commonly used to alleviate prostate problems, as they are high in zinc. They are also antiparasitic and used to combat intestinal worms.
Adapted from Food & Drink Magazine, Autumn 2007