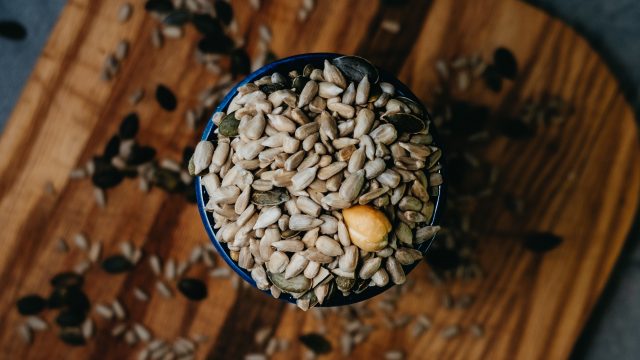 A wonderfully crunchy snack! Play around with different spices and herbs to find what you like best! Eat as is as a snack or sprinkle on top of salads, soups, cereals, in granola, in trail mix or in baking.Pumpkin Seeds – Pumpkin seeds contain a wide variety of antioxidants and are a good source of minerals such as zinc, iron, phosphorus, magnesium, manganese and copper. In addition, they are a good source of protein and fibre. Good for immunity, reproduction, bones, skin, and vision.Extra Virgin Olive Oil – Extra virgin olive oil is a healthy monounsaturated fat rich in antioxidants and anti-inflammatory phytonutrients such as phenols and polyphenols. It is also a good source of vitamin E. Heart healthy and anti-inflammatory!
Ingredients
1.5

cups

raw pumpkin seeds

2

tsp

melted butter

(or coconut or olive oil)

Sprinkle of salt
Optional
Garlic powder

Cayenne pepper

Cumin

Cardamom

Cinnamon

Any spice of your choice!
Instructions
Mix seeds with butter or oil in a bowl together with the spices of choice and unrefined salt.

Spread out evenly in a single layer on a rimmed baking sheet.

Stirring occasionally, bake until golden brown (around 15-20 minutes)
Notes
You can use seeds from a freshly carved pumpkin (keep some of the stringy bits on the seeds as they add great flavour – just clean off the extra chunks!). Do not eat the shells.
Photo by Cathal Mac an Bheatha