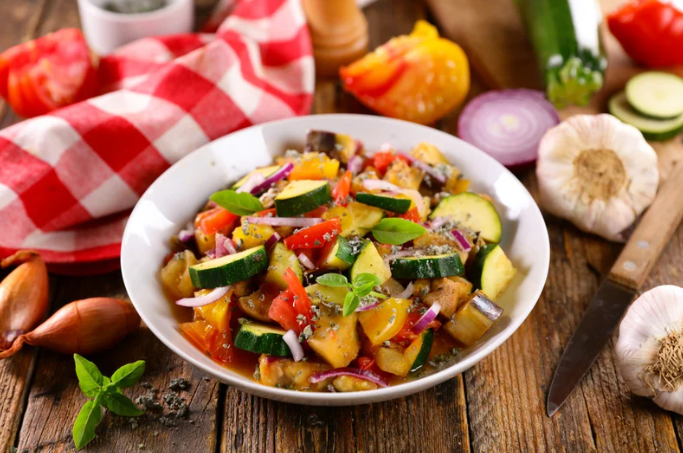 Ingredients
1

large

onion

halved and thinly sliced

1 3/4

lbs

zucchini

cut into 1/4 inch slices (approx 7 cups)

1/2

cup

extra virgin olive oil

more for serving

6

thyme sprigs

4

rosemary sprigs

6

cloves

garlic

smashed and peeled

fine sea salt

to taste

2

lbs

eggplant

cut into 1 inch cubes (approx 10 cups)

2

medium

red bell peppers

sliced into 1/2-1 inch slices (approx 3 cups)

3

cups

cherry tomatoes

8

oz

goat cheese

crumbled

3/4

cup

castelvetrano or other high quality olives

crushed, pitted, and torn into pieces

1/2

cup

basil leaves

sliced
Instructions
Heat oven to 425 degrees, and arrange two racks in the top and bottom thirds.

On one rimmed 13-by-17-inch sheet pan, toss together onion slices, zucchini, ¼ cup oil, 3 thyme springs, 2 rosemary sprigs, 3 garlic cloves and ½ teaspoon salt.

On a second rimmed baking sheet, toss together eggplant, red peppers, ¼ cup oil, 3 thyme sprigs, 2 rosemary sprig, 3 garlic cloves and ¾ teaspoon salt.

Place one tray on the top rack, and a second on the bottom rack of the oven. Roast both for 40 minutes, stirring vegetables two or three times.

Add tomatoes to the baking sheet with eggplant and peppers, then continue to roast until the tomatoes burst and the zucchini turn deeply golden brown, another 20 to 25 minutes. The vegetables will become very caramelized, and that's a good thing, particularly with the zucchini and onions.

Transfer zucchini and onions to the baking sheet with eggplant, mix well, and spread in an even layer (it will just fit). Drizzle vegetables with another 1 tablespoon oil, then sprinkle goat cheese and olives over the top. Roast until goat cheese is soft and warmed through, 5 to 10 minutes.

Transfer vegetables to a serving platter, drizzle with a little more oil and squeeze juice from the one of the lemon wedges over the top. Garnish with basil leaves. Serve hot or warm, with more lemon wedges on the side.