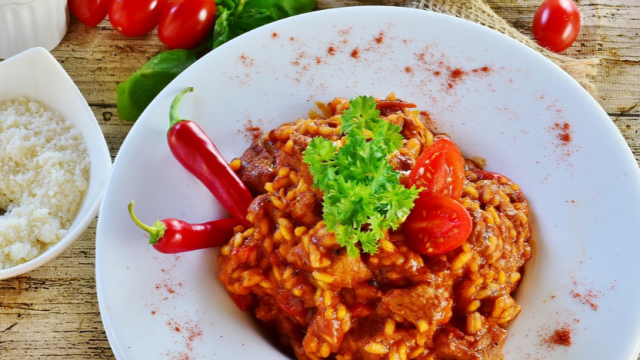 All of a sudden, it feels like fall out there. And it doesn't help that the evenings are getting darker so much earlier.  Those changes can bring on cravings for more warming, hibernating type of foods, like chili.
Chili is a great prepare-ahead complete meal on its own, and when it's cooked in a crock pot, it's even more of a time saver. Making chili at this time of year has other benefits, as tomatoes, zucchini, onions, peppers, and garlic can still be found in abundance at the farmers market. Whether you choose to make it vegetarian or not, it's always an energy sustaining meal full of veggies, beans, and their fibre.
Ingredients
12

ounces

ground venison, turkey, or lean ground beef

(add one extra can of beans if not using meat)

1

cup

onion, chopped

1

green pepper, chopped

1

red pepper, chopped

1

cup

mushrooms, chopped

2

cloves

garlic, minced

1

zucchini, chopped

1

can

red kidney beans, rinsed

1

can

black beans, rinsed

1

can

diced tomatoes

1

can

tomato sauce (8 oz)

2

tbsp

chili powder

1

tsp

oregano leaves

1/2

tsp

cumin
Instructions
In a large skillet, cook ground meat and onion. Drain and rinse if necessary. Add all of the ingredients into the crockpot and stir well. Cook on low for 8 hours or high for 4 hours. Serve topped with grated goat cheese and diced avocado.
Notes
Nutritional Value of Select Ingredients
Beans – High in fibre and protein, yet very low in fat, beans can help lower cholesterol and blood pressure. They protect against cancers, diabetes, and because of their high levels of manganese, keep bones strong. The fibre regulates bowel function, combats hemorrhoids, and lowers the risk of colon cancer.
Garlic – Garlic is touted as a "cure-all" due to its many uses in medicine. It has a beneficial effect on heart disease, cancer, and infectious diseases. It decreases cholesterol levels, detoxifies the body, stimulates the immune system, and the list goes on and on. Eat garlic raw and regularly for maximum benefits.
Mushrooms – Mushrooms have been used for thousands of years for their medicinal properties. They help stimulate the immune system and protect against cardiovascular disease, free radicals, mutagens, and toxins. Maikake, reishi, and shiitake are the most studied for their medicinal properties, but all mushrooms have benefits. Highly nutritious, they contain protein, B vitamins, copper, magnesium, vitamin C, potassium, phosphorus, folate, selenium, and iron.
Onions – Because they are high in sulfur, onions help lower cholesterol, inhibit cancerous tumor growth, help manage diabetes, and are an anti-inflammatory, antibacterial, and antifungal food that are also a blood tonic. Eat them daily – raw or cooked.
Tomatoes – A low calorie food packed with nutrition, tomatoes are high in vitamin C, carotenes including lycopene, and fibre. Lycopene has been shown to protect against many cancers, especially prostate.
Adapted from the New Better Homes and Gardens Cookbook, 12th Edition.
Image by 
RitaE