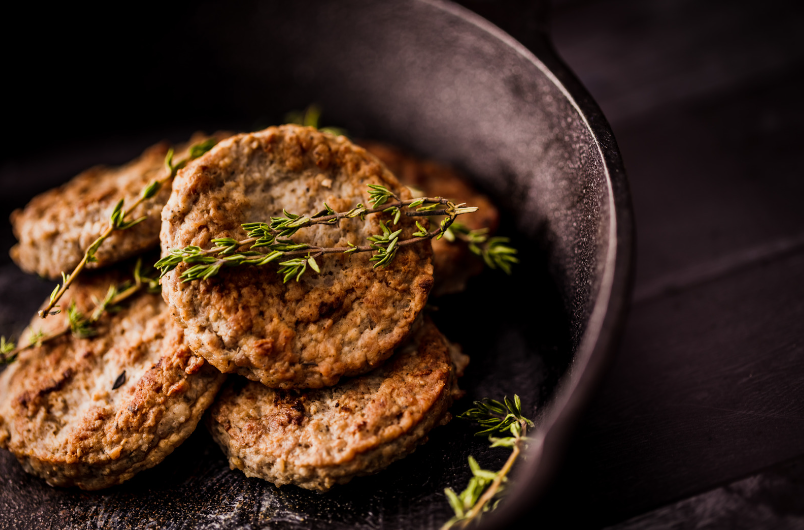 This protein-rich tempeh vegan sausage is spicy, smoky, savory, and flavorful. Enjoy this delicious plant-based breakfast alternative.
Ingredients
8

oz

Tempeh

1/4

White onion

diced

4

cloves

Garlic

minced

1

tsp

Brown sugar

or coconut sugar

1/2

tsp

Salt

1

tsp

Ground black pepper

1 1/2

tsp

Dried sage

1 1/2

tsp

Dried thyme

1 1/2

tsp

Smoked paprika

2

tbsp

Fresh rosemary

chopped

1/8

tsp

Ground nutmeg

1/4

tsp

Ground cayenne pepper

1/4

tsp

Red pepper flakes

2

tbsp

Vegan worcestershire sauce

1

tbsp

Avocado, grape seed, or olive oil

1

pinch

Allspice

optional

1/2

tsp

Dried marjoram

optional
Instructions
Finely chop tempeh and add to a mixing bowl (or a food processor) along with remaining ingredients.

Mix with clean hands (or pulse in the food processor) until very thoroughly combined. The texture should resemble sausage.

Taste a small amount and adjust flavor as needed, adding more cayenne pepper or red pepper flake for heat, salt and pepper for overall flavor, brown sugar for sweetness, or paprika for smokiness.

Cover and refrigerate for at least 2 hours, preferably 24 hours, and up to 3 days to allow the flavors to develop.

When ready to cook, line a 1/3 cup measuring cup with plastic wrap or parchment paper and fill with "sausage." Fold plastic wrap or parchment over the top and pack down. Then gently remove and set on a clean plate. Press down to form a 1/2-inch thick disc. Repeat until the mixture is used up – about 5 "sausages" (amount as original recipe is written // adjust if altering batch size) 

Heat a large skillet over medium heat. Once hot, add 1-2 Tbsp oil (or enough to coat the surface) and add only as many patties as will comfortably fit in the pan. Sprinkle with a bit more salt and pepper. (If trying to cut back on oil, see notes for baking instructions.)

Cook for 3-4 minutes or until the underside is browned. Then gently flip (they can be fragile) and cook on the other side for 3-4 minutes more or until the underside is browned.

Serve immediately. Store leftovers in the refrigerator up to 3-4 days or in the freezer up to 1 month. You can also make patties ahead of time (up to 1 month), freeze (uncooked), and then thaw before cooking.