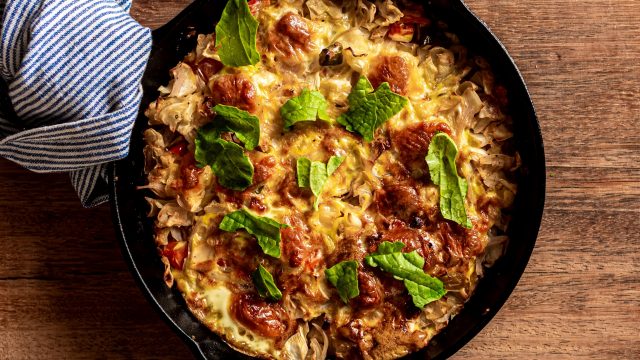 Eggs – Eggs contain protein, unsaturated fats, vitamin A, calcium, iron, phosphorus, zinc, and are quite low in calories. Check out different egg labels: http://www.spca.bc.ca/youth/about-animals/animal-issues/egg-carton-facts.htmlGarlic – Touted as a "cure-all" due to its many medicinal uses. It has beneficial effects on heart disease, cancer, and infectious diseases. It decreases cholesterol levels, detoxifies the body, stimulates the immune system, and the list goes on and on. Eat garlic raw and regularly for maximum benefits.Onions – High in sulfur, onions help lower cholesterol, inhibit cancerous tumor growth, help manage diabetes, and are an anti-inflammatory, antibacterial, and antifungal food that are also a blood tonic.Spinach – High in antioxidants, spinach reduces the risk of cancer, high in magnesium (for mood), iron, great for the eyes, etc. etc., etc. Eating spinach with a source of vitamin C (citrus, peppers) helps absorb the calcium found within.Peppers – Bell peppers are one of the most nutrient-dense foods available containing vitamin C, beta-carotene and many phytonutrients. They are also beneficial for preventing cataracts, blood clots, and reducing the risk of heart attacks.Parsley – This herb is useful as a diuretic, useful for detoxification and ingestion, and helps the lungs and spleen. Great for the kidneys, parsley is full of minerals, vitamins, fibre, and phytonutrients.Turmeric – Turmeric is a powerful anti-inflammatory, antioxidant, and anti-cancer spice. Add it to soups, salad dressing, stir-fries, and pastas – it has a strong colour but not a strong taste. Adding black pepper will make the turmeric 1,000 times more bioavailable!
Ingredients
1

tbsp

olive oil or butter

1

small onion, chopped

1

clove garlic, minced

1

cup

red pepper, diced

1

tsp

turmeric

6

eggs, lightly beaten

1

pacakge

 (approx.10 oz) frozen chopped spinach, thawed and drained (or 4 cups fresh chopped spinach)

1/4

cup

fresh parsley, chopped

1/4

tsp

salt

1/4

tsp

ground pepper

pinch ground nutmeg
Instructions
In an ovenproof skillet, heat oil over low heat. Sauté the onions for 5 minutes. Add peppers, garlic, and turmeric and sauté for another 5 minutes.

In a bowl, beat the eggs. Stir in the cheese (if using), parsley, spinach, and spices.

Pour on top of the pepper mixture.

Bake in 325F oven for 30-35 minutes or until set but still moist in the center.

Serve hot or cold; makes 4 main-course servings.