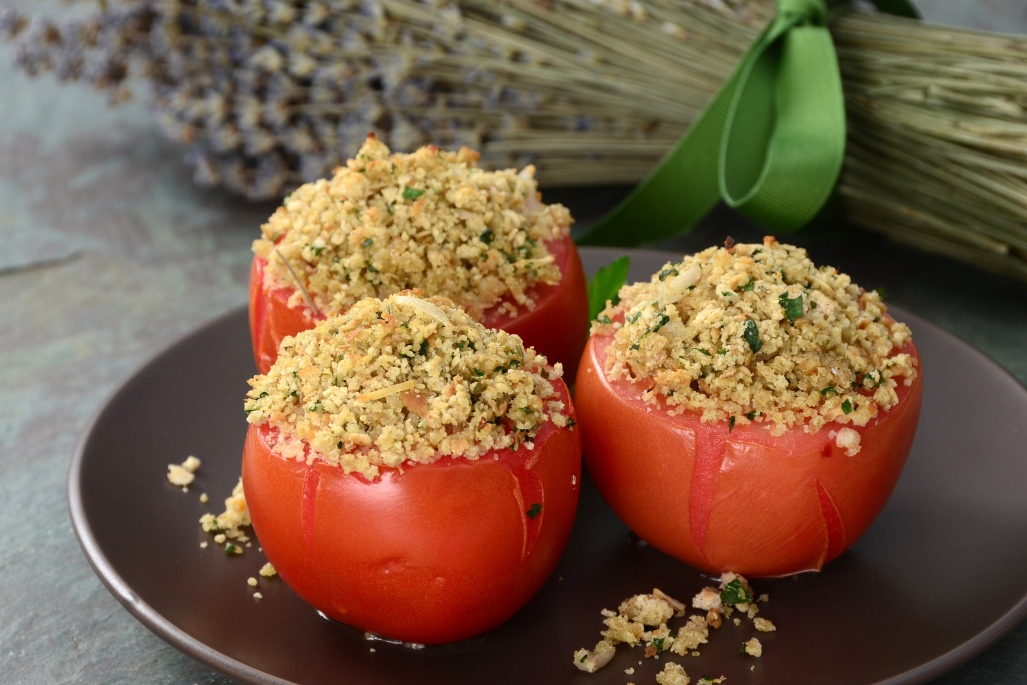 It is tomato season!  This great summer recipe is easy to make and packed full of nutrients. Experiment with variations of the vegetables depending on what is fresh and available to you. Shredded carrot, zucchini, or parsnip can be used or substitute the spinach for chopped kale or chard. You can also use cooked millet instead of quinoa.
Ingredients
8

large tomatoes

1.5

cup

quinoa, cooked

3

cups

fresh spinach

1

onion, diced

3

cloves garlic, minced

1

zucchini, finely chopped

1

carrot, shredded

3

tbsp

olive oil

1

tsp

dried oregano

1

tsp

paprika

1

tsp

thyme

1/4

tsp

cayenne pepper

1/4

tsp

Italian seasoning

Salt and pepper

(to taste)

Hemp hearts

(optional)
Instructions
Tomato Shell
Preheat oven to 350 F. Gently cut the tops of the tomatoes off and scoop out the insides with a small spoon or melon baller. Flip tomatoes upside down on a paper towel for a few minutes to drain some of the juice out. Once drained, gently rub olive oil on both the outside and inside of the tomatoes. Place upside down on a baking sheet lined with parchment paper and bake for 5 minutes. Set aside.
Stuffing
Heat 2 tbsp. olive oil on low heat. Sautee garlic and onion until onion is almost translucent. Add seasonings, spinach, shredded carrot and zucchini and sauté for 2 minutes or until spinach is wilted and carrot softened. Add cooked quinoa, sea salt and pepper to taste. Stir well and heat through.

Spoon mixture into tomato shells. Place upright on baking sheet and bake for 10-12 minutes or until tomato is soft. Be careful not to overcook. Remove from oven and drizzle with fresh olive oil. Try sprinkling hemp hearts on tops for an extra hit of protein and healthy fats.