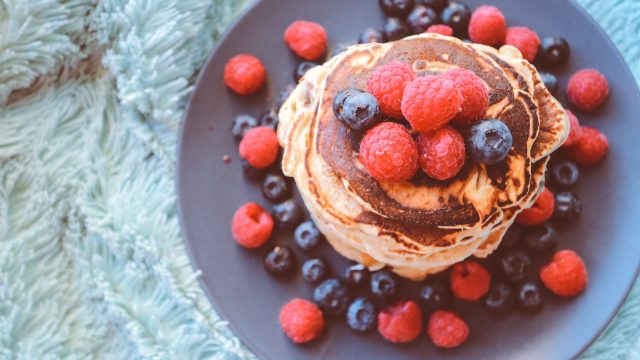 Spelt is an ancient form of wheat that is easier to digest than regular white or whole wheat flour and has a slight nutty flavor which is perfect for pancakes. Top these lovely golden cakes with fresh fruit and a touch of maple syrup and you have a healthy, delicious breakfast, brunch or even dinner!
Ingredients
2

cups

spelt flour

1/4

cup

ground flax seed

3

tsp

baking powder

1

tsp

salt

2

egg whites

2

egg yolks

2

cups

milk of choice
Instructions
Mix together dry ingredients.

In a separate bowl, beat egg whites until firm peaks form.

In another bowl, beat yolks and mix in the milk. Add the yolk and milk mixture to dry ingredients and mix very lightly.

Gently fold in the egg whites.

Lightly oil and heat a cast iron or stainless steel skillet over medium-low heat.

When the pan is hot enough (a drop of water sizzles on it) pour ¼ cup of batter into the pan. Cook for about 3 minutes, until bubbles begin to form around the edges of the cake.

When the underside is lightly golden, flip with a spatula and cook for another 1-2 minutes or until golden brown on both sides. You may need to adjust the heat up or down at this point.

Serve the pancakes immediately or keep warm in a 2000 F oven.

Serve with your choice of delicious toppings such as sliced fresh fruit, fruit sauces, chopped nuts and seeds, nut or seed butters or a touch of pure maple syrup or raw honey.