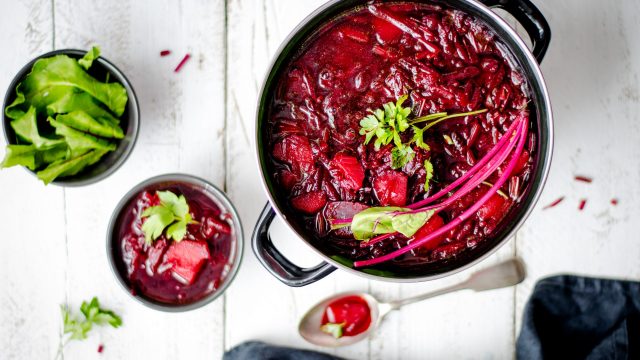 This beautifully coloured soup with a unique Thai flavour is full of phytonutrients that provide antioxidant, anti-inflammatory, and detoxification support.Beets – The beetroot is an excellent source of phytonutrients, folic acid, fibre, manganese, and potassium. It is an excellent tonic for the liver, has anti-cancer properties, increases bowel function, and decreases cholesterol levels. The greens are even higher in nutritional value than the roots; they are rich in calcium, iron, and vitamins A and C.Garlic – Garlic is touted as a "cure-all". It has a beneficial effect on heart disease, cancer, and infectious diseases. It may help with cholesterol levels, detoxifies the body, stimulates the immune system, and the list goes on and on.  Eat garlic raw and regularly for maximum benefits.Ginger – This root is an excellent remedy for nausea, morning sickness, upset stomach, indigestion, vomiting, motion sickness, and cramps.  It helps to lower blood pressure, reduce fever, prevent internal blood clots, etc. Very medicinal, yet tasty!
Ingredients
5

medium beets – peeled, chopped bite size

2

tbsp

coconut oil

4

shallots, chopped

3

garlic cloves, minced

4

cups

vegetable stock

2

tbsp

ginger, grated

1

stalk lemongrass

(discard outer dry leaves and mince the bottom 1/3 of stalk)

2

cups

coconut milk

1

tbsp

tamari

1

tsp

honey

2

limes, juiced

1/2

tsp

salt

1/4

cup

cilantro for garnish
Instructions
Preheat over to 350F. Place beets in baking dish and cover the bottom of the dish with ½ inch of water. Cover and bake until tender – approx. 45 minutes.

Once beets are ready, melt coconut oil in large pot over medium heat.

Add shallots and garlic – cook for 3 minutes – stirring frequently.

For the remainder of the lemongrass that is inedible (outer leaves and upper portion), you can bruise/pound them with a mortar to release the oils and add to the soup whole for extra flavour.

Add the beets and the rest of the ingredients, except for the cilantro. Simmer until heated throughout.

Serve in bowls and garnish with cilantro.
* If you prefer a pureed soup – you can use an immersion blender to blend until smooth. (Just remove the bruised lemongrass first)
* Lemon zest can be substituted for lemongrass (zest of 1/2 lemon = 1 stalk of lemongrass.