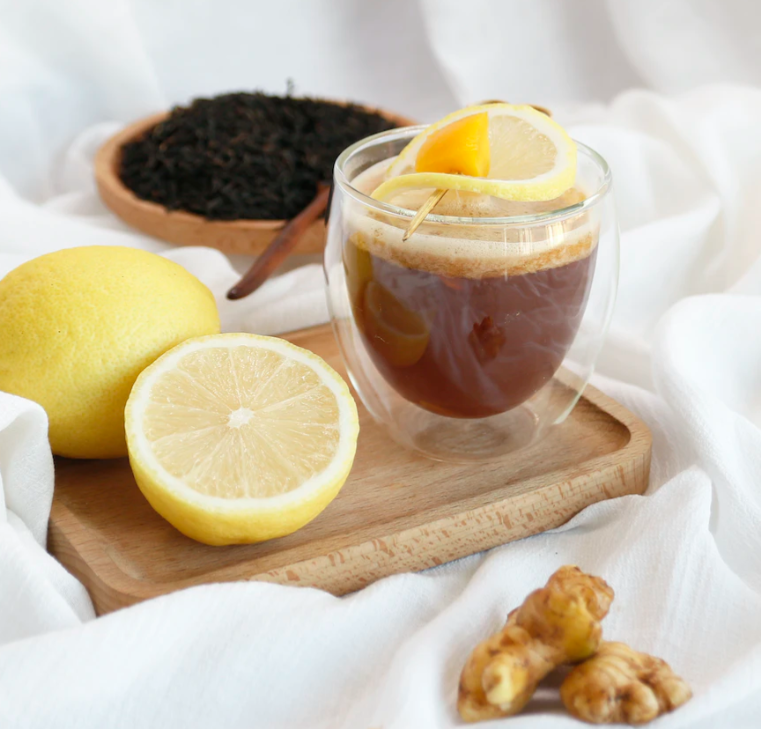 This tea, made with ingredients that provide antioxidants, anti-inflammatory and cancer-fighting properties, may help to reduce inflammation, support your immune system, ease pain and reduce nausea. Delicious hot or cold!Turmeric – This bright yellow member of the ginger family has a long list of health benefits due to its anti-inflammatory and antioxidant properties. Add it to soups, sauces, eggs, salad dressing, rice and pasta dishes – it has a strong colour but not a strong taste.Ginger – Fresh ginger contains several phytonutrients that may help to reduce inflammation and protect against cancer:  Fresh ginger may also help with to reduce nausea and vomiting whether due to treatment, motion sickness or the flu.
Ingredients
1

tsp

ground turmeric powder

(or 1 tbsp grated fresh turmeric)

1

tbsp

fresh ginger, grated

Ground black pepper

(to taste)

4

cups

water
For each 1 cup serving, add:
The juice of half a lemon

1/2

tsp

honey

(to taste)
Optional ingredients
Add cinnamon, cardamom and /or cloves while simmering for a chai-like tea
Instructions
Combine turmeric, ginger, pepper and water in a pot on the stove. Gently bring to a boil. Reduce heat, cover and let simmer gently for 10-15 minutes.

Let cool slightly (covered) and then strain through a fine-mesh strainer.

For each 1 cup serving, add lemon juice and a bit of raw honey just before drinking.

Enjoy as a soothing hot tea or as a refreshing cold tea (pour over ice cubes in a glass and garnish with lemon slices and a cinnamon stick)

Store any extra in a covered glass jar in the fridge.
Golden Turmeric Milk
In place of all or part of the water, use milk or milk alternative to make a soothing, warm turmeric milk. (Leave out the lemon juice.)