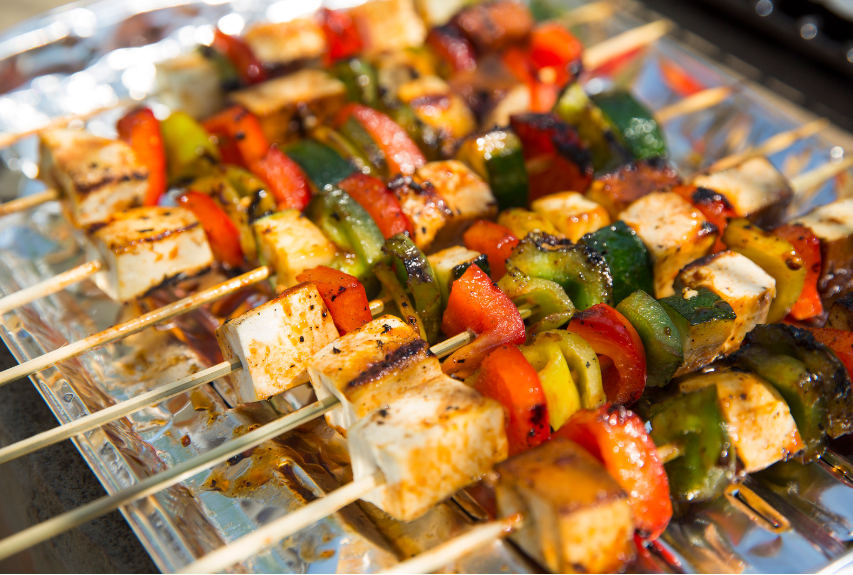 Equipment
10 Wooden Skewer Sticks

Soaked
Ingredients
Veggie kabobs
10

Cherry tomatoes

1

small

Zucchini

10

White button mushrooms

1

medium

Red bell pepper

1

medium

Yellow bell pepper

1

medium

Orange bell pepper

12

oz

Extra Firm Tofu

2

slices

Pineapple

Thick slices, sliced into cubes

3

tbsp

Toasted Sesame Oil

Salt

Black pepper
Satay Sauce
1/2

cup

Peanut butter

2

tbsp

Soy sauce

3

tbsp

Maple syrup

1/4

tsp

Red pepper flakes

1/4

tsp

Garlic powder

4

tbsp

Hot wate
Instructions
Place the skewers into a shallow dish and cover with water and allow to soak for 15 minutes.

Preheat the oven to 460°F (240°C).

Cut the tofu into large thick squares (cutting into large squares makes them more sturdy and easier to place onto the skewers). Place onto a parchment lined baking tray and place into the oven to bake for 15 minutes.

While the tofu is baking and the skewers are soaking, chop up the bell peppers into pieces (quite large so they can easily be threaded onto the skewers), and slice the zucchini into thick slices. Chop the pineapple slices into large chunks. The mushrooms and cherry tomatoes will stay whole.

Toss the chopped veg, mushrooms and cherry tomatoes in a bowl and add 2 Tbsp sesame oil and some sea salt and black pepper and toss together so that everything is coated.When the tofu is ready, remove from the oven and brush with the remaining 1 Tbsp sesame oil.

Thread the vegetables and tofu onto the skewers.

If baking in the oven then preheat the oven to 350°F (180°C) and place the skewers onto a parchment lined baking tray and bake for 30 minutes.

If cooking on the grill then preheat the grill and cook the skewers, turning regularly until the veggies are soft and just browning around the edges (about 10-15 minutes).

Prepare your satay sauce by adding the peanut butter, soy sauce, maple syrup, red pepper flakes and garlic powder together and whisking with a hand whisk to combine. Add hot water from the kettle and whisk to thin it out into the right consistency.

Serve the vegetable skewers with a bowl of satay sauce on the side.
Notes
Notes:
Soaking the skewer sticks is a must. This prevents them from catching fire when baked or grilled. The tofu bakes for the same amount of time as the skewer sticks are soaking, so you might as well. However, tofu can be omitted from this recipe if you prefer.
Use a gluten-free soy sauce or switch for tamari if you need this to be gluten-free.
Enjoy your skewers hot and fresh from the oven or grill. Leftovers can be kept for 4-5 days in the fridge. Leftover sauce will keep for 5 days in the fridge. 
Recipe by Loving It Vegan