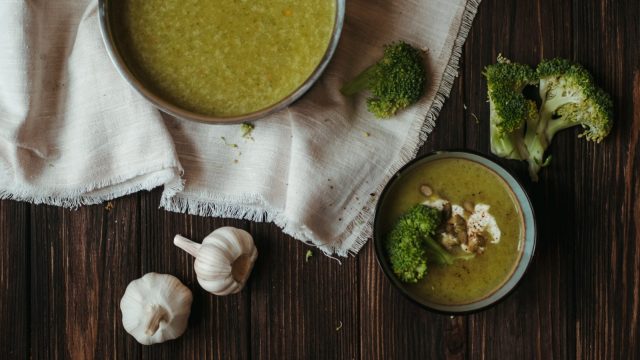 This delicious soup can be eaten as an entrée or as a side dish. It is full of anti-inflammatory nutrients!
Ingredients
2

tsp

coconut oil

1

cup

onions, chopped

1/2

cup

carrots, chopped

1/2

cup

celery, chopped

1/2

tbsp

ginger, minced

1

tsp

cumin, ground

1

tsp

coriander, ground

1

tsp

turmeric, ground

2

cups

broccoli, chopped

(florets and peeled stalks)

1

cup

cauliflower, chopped

(florets and stems)

4

cups

vegetable broth, low-sodium

1

bay leaf

1/4

bunch

fresh thyme, tied together with twine

1

can

coconut milk or 2 cups milk of choice

1

can

Navy beans

1/2

lemon, juice + zest

Salt and pepper

(to taste)
Optional
1

bulb

garlic

Olive oil for roasting

2

tsp

fresh basil, chopped for garnish
Instructions
In a soup pot, melt coconut oil on medium heat. Sauté the onions until translucent. Add carrots and celery and cook another 20-30 minutes.  Add salt to bring out the liquid in the vegetables.

Add the ginger, cumin, coriander, turmeric, and pepper.

Add *broccoli, *cauliflower, broth, bay leaves, and thyme. Bring to a boil, reduce heat and simmer, covered, for about 30 minutes, stirring occasionally.

Remove and discard the bay leaf and thyme.

Add coconut milk and beans.

Process the mixture in a food processor, with an immersion blender, or in batches in a blender until smooth.

Return to saucepan and add lemon juice and zest and cook for 5 minutes or until heated through.

Season with salt and pepper. Serve garnished with fresh basil, parsley or cilantro.
*Optional Cooking Method
Cook as above but *roast the garlic, broccoli and cauliflower to give this soup a richer, deeper flavor.

Cut the tips off the head of the garlic bulb and drizzle with olive oil. Wrap in tin foil and bake in oven for 1 hour at 400 degrees F (do at same time as roasting broccoli and cauliflower).

In two separate bowls, add olive oil to broccoli and cauliflower florets. Place in single layers on foil-covered sheet pans and roast at 400 degrees F. Broccoli will take for 15-20 min while cauliflower will take 30-40 min. Flip veggies half way through cooking.

Add the roasted garlic, broccoli and cauliflower to the soup pot when you add the coconut milk and beans. (Reserve some of the roasted broccoli and cauliflower to put into each bowl.