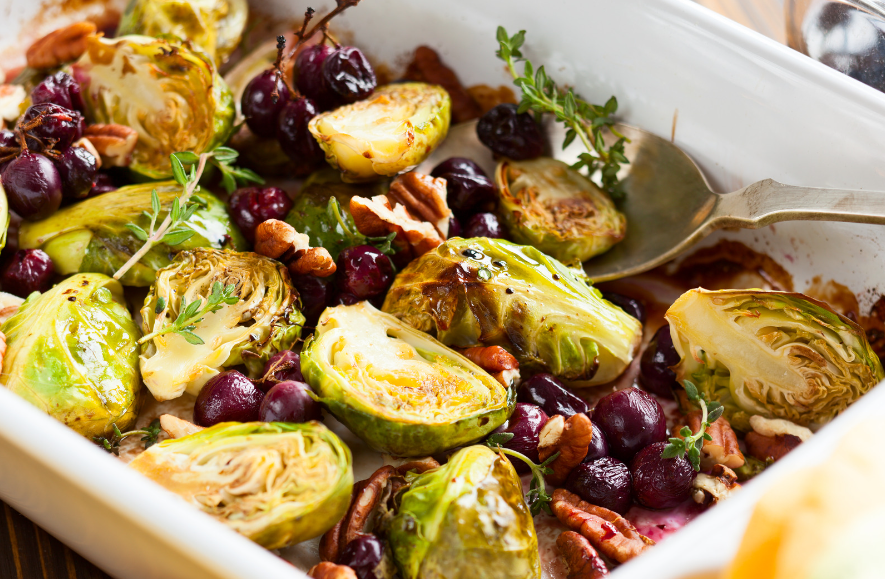 Ingredients
Roasted Brussels Sprouts
3

cup

Brussel sprouts

raw, ends trimmed, yellow leaves removed

2

tbsp

Olive oil

Salt

to taste
Roasted Butternut Squash
4

cup

Butternut squash

uncooked, peeled, seeded, and cubed into 1-inch cubes

2

tbsp

Olive oil

Salt

to taste
Other Salad Ingredients
2

Beets

2

cup

Pecans

1

cup

Dried cranberries
Balsamic Glaze
1

cup

Balsamic vinegar

1/4

cup

Honey

or brown sugar
Instructions
Roasted Brussels Sprouts
Preheat oven to 375 F.  Line the baking sheet with parchment paper.

Trim ends of Brussels sprouts and remove yellow leaves.  Slice all Brussels sprouts in half. 

In a medium bowl, combine halved Brussels sprouts, 2 tablespoons of olive oil, salt (to taste), and toss to combine. 

Place Brussels sprouts onto a parchment paper-lined baking sheet, cut side down, and roast in the oven at 375 F for about 20-25 minutes. Roast them longer if you'd like a softer texture. During the last 5-10 minutes of roasting, turn them over for even browning, the cut sides should be nicely and partially charred but not blackened.
Roasted Butternut Squash
Preheat oven to 375 F. Line the baking sheet with parchment paper.

In a medium bowl, combine cubed butternut squash (peeled and seeded), 2 tablespoons of olive oil, and salt, and toss to combine.

Spread butternut squash in a single layer on the baking sheet. Bake for 20-25 minutes, turning once half-way through baking until softened.
Roasted beets
Add 2 beets to a medium-sized saucepan filled with water. Bring to a boil. Boil the beets on medium heat, half-covered (allowing some heat to escape), for about 30 or 40 minutes until soft (depending on the size of the beets). Remove from heat.

Using a large spoon or a ladle, carefully remove beets from hot water. Let them cool. When completely cooled, peel the beets and then dice them into small cubes.
Toasted pecans
Preheat the oven to 350 F. Line a baking sheet with parchment paper. Spread pecans in a single layer.

Toast the pecans for about 5 to 10 minutes in the preheated oven at 350 F until they get darker in color.  

Note: Pecans burn really fast, so make sure to check the nuts after 5 minutes and frequently afterward. 
Balsamic Glaze
Combine 1 cup of balsamic vinegar + ¼ cup of honey or brown sugar in a medium pan and cook it down, regularly stirring. The mixture should reduce by about half. Consistency should be thick enough to coat the back of the spoon but should not be overly thick.
Assembly
In a large bowl, toss together roasted Brussels sprouts, roasted butternut squash, diced cooked beets, toasted pecans, and dried cranberries.

Drizzle with the balsamic glaze without mixing it with the salad.

IMPORTANT NOTE: If making this salad ahead, drizzle the balsamic glaze only right before serving, for presentation purposes. Otherwise, the salad might look dark and not as colorful.
Notes
Notes:
You can roast both Brussels sprouts and butternut squash on 2 separate baking sheets at the same time, on the same rack in the oven.
Alternatives to the Balsamic glaze.  
While you can make the balsamic glaze as directed in the recipe above by cooking down the balsamic vinegar together with a small amount of honey or brown sugar until the mixture reduces by about half.   Here are 2 other simple alternatives to the balsamic glaze:
Alternative # 1.  Use High-Quality Aged Balsamic Vinegar Made in Italy
Aged balsamic vinegar is often sold in specialized stores or sections of foreign foods at some grocery stores. High-quality Italian-made aged balsamic vinegar is usually expensive but it does not need cooking down. Just use it as is. And, you don't need to use much.
Alternative # 2.  Combine Balsamic Vinegar and Olive oil
Combine ¼ cup of balsamic vinegar with 2 tablespoons of olive oil.  Whisk until emulsified.  Drizzle the salad with this mixture.