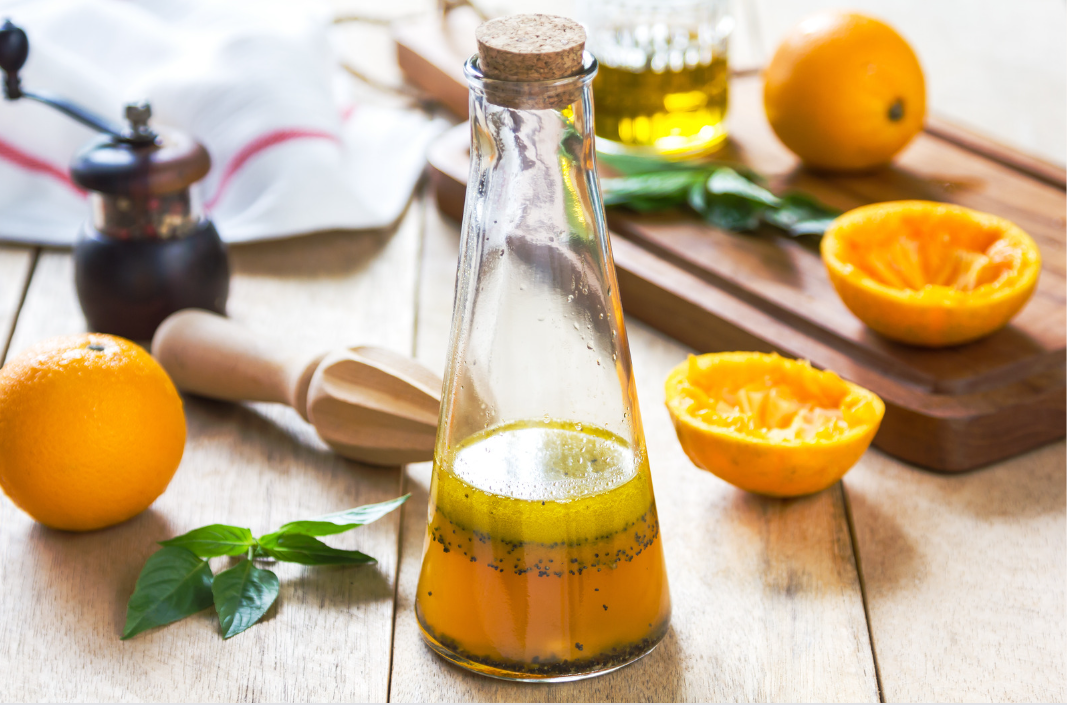 This fresh dressing is a bright and tasty way to spruce up your salads and delicious poured over steamed vegetables.  Ready in minutes and a healthy upgrade to commercial/store bought.Oranges – The high vitamin C content makes oranges great for the immune system, eye function, adrenal glands, reproductive organs and connective tissues. The flavonoid hesperidin found in oranges helps with lowering blood pressure, high cholesterol and has anti-inflammatory properties.Tahini – Tahini is a fine paste of ground sesame seeds. By weight, sesame seeds are higher than liver in iron. They are also high in calcium, magnesium, protein, fibre, other vitamins and minerals, and essential fatty acids.Olive Oil – Cold pressed extra virgin olive oil is an excellent source of monounsaturated fatty acids, making this oil quite stable for medium/low  temperature cooking.  It has a good variety of vitamins and minerals, and can help lower LDL cholesterol, control blood pressure, and aid in diabetes.Lemon Juice – With its antibacterial properties and high levels of vitamin C, lemon juice is a great addition to any recipe. It is also great for the immune system and helping in detoxifying the body.Garlic – Garlic is touted as a "cure-all" due to its many uses in medicine.  It has a beneficial effect on heart disease, cancer, and infectious diseases.  It decreases cholesterol levels, detoxifies the body, stimulates the immune system, and the list goes on and on.  Eat garlic raw and regularly for maximum benefits.Ginger – This root is an excellent remedy for nausea, morning sickness, upset stomach, indigestion, vomiting, motion sickness, and cramps.  It helps to lower blood pressure, reduce fever, prevent internal blood clots, etc.  Very medicinal, yet tasty!
Ingredients
1/2

cup

olive oil

1

juice of lemon

1

juice of lime

1

juice of orange + zest

1/3

cup

tahini

2

tbsp

water

1

clove

minced garlic

1

inch

grated ginger

1

tbsp

sesame oil

salt & black pepper

(to taste)
Instructions
Place all ingredients into a jar. Shake vigorously until well blended.

Can be stored in the refrigerator for up to one week. Let it come to room temperature, so the oil liquifies, and shake to re-mix.