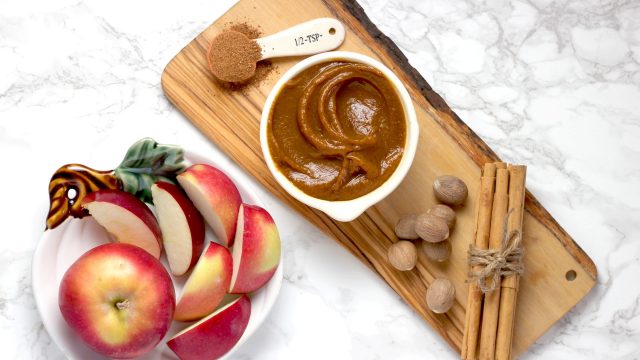 Drizzled over a fruit salad or used as a dip for sliced fresh fruit, this quick and easy to prepare dip is tasty and nutritious!
Almonds – Almonds are called the king of nuts because they are high in calcium, potassium, magnesium, phosphorus, folic acid, EFA's, and protein. Loaded with phytonutrients, they are called the anti-cancer nut.
Maple Syrup – This natural sweetener contains manganese, which is essential for energy production and antioxidant defenses. It is also high in zinc, required for good arteries, skin, and the immune system.
Tahini – Tahini is a fine paste of ground sesame seeds. By weight, sesame seeds are higher than liver in iron. They are also high in calcium, magnesium, protein, fibre, other vitamins and minerals, and EFA's.
Cinnamon – Cinnamon is known as a warming digestive aid and can help to stimulate appetite. It has anti-inflammatory, anti-bacterial and anti-microbial properties which make it a great anti-cancer food. It also helps to keep blood sugar levels in balance.
Ingredients
1/2

cup

almond butter

1

tbsp.

tahini

1

tbsp.

maple syrup or honey

1/3

cup

almond milk

dash

cinnamon
Optional extras
Vanilla extract in place of cinnamon

Unsweetened coconut shreds

Hemp seeds

Ground flax seeds

Raw cocoa powder or nibs

Hazelnut, cashew or pumpkin seed butter in place of all or part of almond butter
Instructions
In a medium bowl combine all ingredients until smooth. Thin with more almond milk if you want to adjust the consistency.

Serve as a dip with sliced fresh fruit pieces, drizzle it over a fruit salad or even spread it on some toast.  It can be stored in the fridge for up to 5 days.