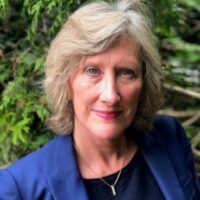 Debora Crombie
Debora (Sweeney) Crombie feels privileged to have had a career that introduced her to numerous inspiring people and situations.
She started her career as a journalist, reporting in Vancouver, the Provincial Legislature in Victoria and Parliament Hill in Ottawa.  Her experiences introduced her to local, provincial and national politics, and exposure to a myriad of issues affecting peoples' lives.
She then moved to the university sector, with senior roles in media relations, public affairs, university advancement, marketing and business relations at the University of British Columbia and University of Toronto.  There, she interacted with educators, researchers and students devoted to creating a better world.
Next, she served as Vice President and Chief Strategy Officer at BC Children's Hospital Foundation.  Her time at the Foundation saw tremendous growth with the creation of a new Research Institute, mental heath building, Djavad Mowafaghian Child Care Centre and a new BC Childrens's Hospital -Teck Acute Care Centre – built to serve the children and families of the province.
Debora loves virtually any activity that gets you out and moving (in spite of your skill level).  She is excited to be on the Board of InspireHealth, helping empower people living with cancer and enabling them to enhance their lives – mind, body and spirit.   Debora  also serves on the Board of Directors of the Westcoast Railway Association and is a former Chair of the Jack Webster Foundation.