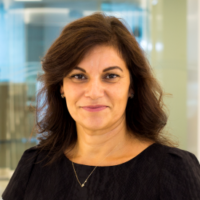 Eduarda McWhirter
Treasurer and Chair, Finance and Audit Committee
Eduarda (Eddie) McWhirter, CPA, CGA, CFE has been an accountant for over 30 years with diverse experience in public and private companies. Eddie's most recent role as an Executive Senior Leader instilled her with a passion to drive sustained strategic change in dynamic environments, and she's established a proven track record for planning, implementing, and managing strategic plans and initiatives. Eddie considers herself a visionary leader that gets results through collaboration, coaching and hard work.
Giving back to the community is something Eddie has done for most of her adult life in varying capacities; helping others is her passion. Until recently, volunteer work complemented her demanding corporate role; however in 2020, Eddie transitioned to solely focus on volunteering with non-profit boards in the Vancouver area. She serves as Treasurer on multiple boards including Quest Outreach Society, Mom2Mom Poverty Initiative and Compassionate Eye Foundation. In addition to supporting the non-profit sector, Eddie mentors CPA students working on their accounting designation.
Fun fact: Eddie immigrated from Portugal and started elementary school not knowing a word of English. She has been married for nearly 30 years and has two adult children that live at home (she loves having them around!). While she was never athletic, a medical setback in 2013 prompted her to prioritize her health and fitness. Now, she dedicates two hours per day, six days of the week, to exercise.