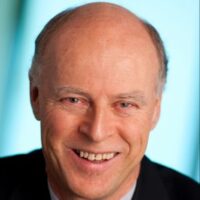 Bob Wiens
Bob is a grateful former patient of InspireHealth.
He is a retired executive and financial manager. With a B. Comm (U. of Calgary), an MBA (Columbia U.), a CPA (New York State) and a CPA (BC), Bob became the managing partner of Arthur Andersen & Co in Ottawa and Vancouver, the President and CEO of FACS Records Centre Inc. and a co-founder and the CFO of D-Wave Systems Inc. He has served on the boards of numerous public and private companies.
Community involvement includes: President – Kiwanis Club of Rideau (Ottawa), Campaign co-chair –  Vancouver Opera Association, Chair – University Hospital Foundation, Finance Chair – St. Vincent's Hospital Foundation, Vice Chair and Treasurer – Science World BC, Co-Chair –  Leadership Vancouver, Chair – United Way of the Lower Mainland, Treasurer – United Way Canada, Chair – Rainbow Collaborative Technologies, National Vice Chair and Governance Chair – Forum for Young Canadians, Director – InspireHealth Foundation and, Peer Counsellor – Canadian Cancer Society.
Bob has received: The Queen's Jubilee Medal (Government of Canada), The André Mailhot Award (United Way Canada), Outstanding Individual Philanthropy Award (AFP – BC), the Volunteer Vancouver Award and, the Deloitte Alumni Award for Community and Corporate Responsibility. Bob was admitted as a Fellow of the Chartered Professional Accounts of BC (FCPA).
Bob and Carol have 3 grown children and 5 grandchildren.