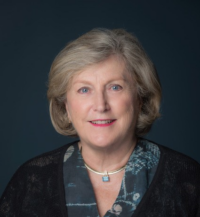 Faye has spent her career working in the not-for-profit sector beginning as a cardiac nurse, then assuming leadership positions with the Canadian Red Cross, United Way of the Lower Mainland, BC Children's Hospital Foundation, the University of Victoria and finally President and CEO of Vancouver Foundation, where she retired in 2013. She consults with non-profits and organizations with a focus on governance and change management.  Recently she has been interim Executive Director for the Canadian Cancer Society, BC Yukon Division, InspireHealth and Langley Animal Protection Society.
Faye is a certified director with the Institute of Corporate Directors and is serving or has served on both corporate, crown agencies, and charities at the national, provincial and local level.
With a proven record in leadership, fundraising, change management, board governance and community engagement Faye has been recognized with a number of awards including a Lifetime Achievement Award from the Association of Fundraising Professionals, the Governor General's award for her philanthropic service to the country and the City of Vancouver medal.