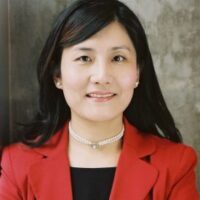 Jenny Li
Jenny Li is a partner at PricewaterhouseCoopers LLP (PwC).  She has about 20 years' experience in advising Canadian businesses expanding globally especially into the United States and increasingly foreign businesses entering the Canadian market through either organic or acquisitive growth. Her clients include businesses and business owners in real estate, retail, resources (mining, forestry, agri-food), technology, and healthcare.
Jenny is passionate about diversity and community involvement.  She's an active mentor both within and outside of PwC. She has been on the board of many not-for-profit organizations including Elektra Women's Choir and Ascenda Canada.
Jenny lost both of her parents to cancer.  The purpose and mission of InspireHealth resonates and inspires her.  She wishes to contribute to support people with cancer and their families.