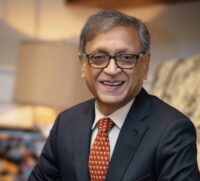 Dr. Arun Gharg
Dr. Arun Kumar Garg is a Clinical Professor of Pathology in the Faculty of Medicine at the University of British Columbia. He also is an Adjunct Professor of Clinical Services in the Faculty of Health Science at Simon Fraser University and visiting distinguished professor at S-VYASA Bangalore India. In addition, he is Medical Director of the South Asian health Institute at Fraser Health.
Dr. Garg holds a Doctor of Philosophy in Biochemistry from the University of Saskatchewan, Doctor of Medicine from the University of British Columbia, and Fellowship in Medical Biochemistry from Royal College of Physicians and Surgeons of Canada. He is a Fellow of the American College of Pathologist.
Dr. Garg has served  in many voluntary organization.  President of Doctors of BC (1993-94) and board or senior committee in academic (BCIT, SFU, UBC), professional i(CMA, BCMA, Institute of Health Care Transformation and Sustainability, CAPIH, GAPIO, PISA etc.) and business organizations (BC Biomedical laboratories Ltd, DG Enterprises Ltd, LEADS Global India).
Dr. Garg has been recognized and awarded numerous honors and awards including Honorary Doctor of Technology by BC Institute of Technology, recipient of Dr. Don Rix Gold medal for life- time contribution as leader by the Doctors of BC and The Vancouver Sun listed him as one of 100 most influential south Asians in its list. He received a lifetime leadership award from the Canadian Association of Physicians of Indian Heritage, the Community Award of Health Care Leadership from Drishti Magazine and the Champion of Philanthropy of Royal Columbian Hospital Foundation.