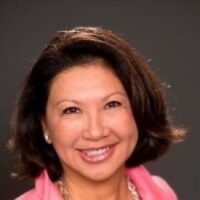 Esther Jang
Esther Jang is an accomplished fundraising executive and consultant with more than 15 years of experience as a senior practitioner in the non-profit sector.
Esther has raised millions of dollars for large organizations such as the University of BC and BC Children's Hospital.  Her work in the non-profit sector has also seen her work with smaller organizations as strategic counsel to managing large capital campaigns and work with senior leadership to build fundraising and legacy strategies.
Not only does she bring with her deep experience managing campaigns, leading senior volunteer committees and board training, Esther is also skilled at facilitating workshops with senior leadership and volunteers to gain consensus to support important funding projects.  Currently, she is the lead strategic counsel for a $37 million capital campaign and counsel to a large religious organization to mentor and guide their senior leadership to build a culture of philanthropy outside of church giving.  Most recently, Esther has served as the lead consultant to building a successful strategy to fund an $18 million capital school/parish hall project at Corpus Christi Parish in Vancouver, built a capital campaign strategy for an animal advocacy group, built fundraising and legacy plans for arts organization and legacy strategies for large religious dioceses.
In a voluntary capacity, she is a Knowledge Philanthropist with Vantage Point, a volunteer Program Chair with Canadian Association of Gift Planners Vancouver, past co-chair of the Fundraising Fundamentals Committee through AFP Vancouver and current member of the National Philanthropy Day Judicial Committee.  Esther also provides her expertise as a Special Advisor to InspireHealth and the Vancouver Asian Canadian Theatre.
Esther holds a Bachelor of Commerce from the University of British Columbia, a post-graduate certificate in International Development, UBC, as well as training in Social Return on Investment in the UK.  Professionally, Esther is recognized for her fundraising knowledge and expertise through her professional CFRE designation (2012).