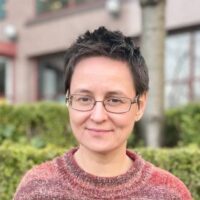 Alli Kelba
Donor Relations Assistant
Vancouver
Alli enthusiastically joined the InspireHealth team in February 2022 after a history of working and volunteering in the non-profit sector. Her areas of interest are healthcare and children's charities.
Along with her experience, she brings to InspireHealth her personal cancer journeys within the medical system and the physical and emotional healing and triumphs that came with it. She authored "One Step Beyond: A Mother and Daughter's Journey Through Illness" sharing her story.
Alli lives in Burnaby with her cat Olivia-May, and enjoys visiting artisan markets, reading and picture puzzles.