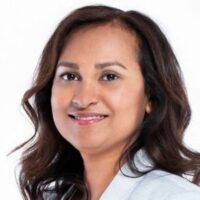 Loveena Chera
Chief Executive Officer
Vancouver
Loveena has spent over 30 years working in a variety of sectors, both for-profit and non-profit, holding leadership roles at some of Canada's biggest and most loved organizations. She joined InspireHealth in 2019 after being inspired by the organization's commitment to providing life-changing supportive care services to cancer patients and their loved ones.
Before joining InspireHealth, Loveena held senior positions at The Peak Group of Companies, London Drugs and Best Buy Canada. During this time, she drove strategic growth and transformational change while implementing operational excellence through better processes and efficiencies. She has won awards for her work launching brands in new markets and for deploying winning multi-channel strategies. She has managed business portfolios exceeding $500 million and been responsible for ad budgets up to $60 million. Loveena is an innovator at heart – she believes that organizations must be nimble and adaptable in an era of inevitable change and that a team's full potential can only be realized when individual strengths are nurtured.
Loveena has launched and supported countless community initiatives during her career and has served on various boards in the non-profit sector including The Children's Wish Foundation, BC & Yukon Chapter, and Preventable – The Community Against Preventable Injuries. Loveena has a passion for mentoring young professionals and as a founding member of the Women's Leadership Forum at one of Canada's largest companies, launched a mentorship program to help grow future female leaders.
Loveena holds a Bachelor of Arts degree from Simon Fraser University and has completed a number of Executive Development Programs including the Leadership Program at Queen's University, the Governance Essentials Program through The Rotman School of Management & the Institute of Corporate Directors and PHSA's San'Yas Indigenous Cultural Safety Training.