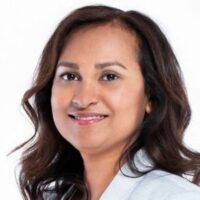 Loveena Chera
Chief Executive Officer
Vancouver
Loveena has over 25 years of business, marketing and non-profit experience and has helped build and position some of Canada's largest brands.
Before joining InspireHealth, Loveena held senior positions at The Peak Group of Companies (Vice President Marketing), London Drugs Ltd. (General Manager, Marketing) as well as Best Buy Canada Ltd. (Director of Merchandising & Marketing). During this time, she drove strategic growth, transformational change and implemented process and operational efficiencies. She has won awards for her work launching Best Buy into the Quebec market and for deploying winning multi-channel strategies.
Loveena launched and supported countless community initiatives during her time in the corporate world and has served on various boards in the non-profit sector including The Children's Wish Foundation, BC & Yukon Chapter and Preventable – The Community Against Preventable Injuries. Loveena has a passion for mentoring young professionals and as one of the founding members of the Women's Leadership Forum at one of Canada's larges companies, she launched a mentorship program to help grow future female leaders.
Understanding that cancer has touched all of our lives in some way, Loveena is committed, through InspireHealth, to making a difference in the lives of those most affected by bringing a person-centric approach to cancer supportive care.
Loveena holds a Bachelor of Arts degree from Simon Fraser University and completed the Executive Development – Leadership Program at Queen's University.