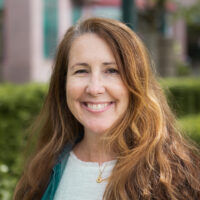 Fiona Thatcher
Clinical Counsellor, Art Therapist
Vancouver, Virtual
Fiona joined the Vancouver InspireHealth counselling team in 2019. She is a Registered Clinical Counsellor and Art Therapist. Alongside traditional talk therapy, Fiona invites creativity into the counselling experience using expressive modalities including art making, writing, and poetry.
Like many others, Fiona's family has also been impacted by cancer. She feels privileged to walk alongside and support InspireHealth patients and families on this path. Fiona believes deeply in the human capacity to seek wellness within adversity and strives to serve this growth process through a person and patient-centred approach.
Fiona enjoys activities that involve being in nature and creative expression. When not supporting others doing the work she loves, you might find her gardening, hiking, creating art with textiles or dining al fresco with friends and family.
"…and you too have come into the world to do this, to go easy, to be filled with light, and to shine" — When I am Among the Trees by Mary Oliver
Fiona Thatcher is a Registered Clinical Counsellor with the BC Association of Clinical Counsellors. She holds a BA in psychology from Simon Fraser University and a Master's in Counselling Psychology and Art Therapy from Adler University.