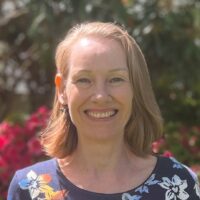 Jemma Templeton
Clinical Counsellor
Victoria, Virtual
Jemma feels privileged to have joined the InspireHealth team in March 2022. She has provided counselling and support in a non-profit front-line capacity for over 30 years. She specialises in helping people during times of loss and grief, having spent most of her career supporting those impacted by chronic illness, addiction, homelessness, and other challenging circumstances as well as helping newcomer refugees from around the world. Most recently, Jemma spent 6 years in a palliative and hospice care environment both as a volunteer and clinical counsellor working with terminally ill patients, their support people, and those grieving the death of a loved one.
During her life, Jemma has been impacted by cancer through family and friends. She feels very honoured to have walked along-side many brave souls throughout her career, and she is in awe at the resilient and resourceful capacity of the human spirit. Jemma's focus is based on the whole-person and is person-centred. She is dedicated to creating a compassionate, supportive, safe, and non-judgmental environment in which to explore the patient's experience.
Scotland is Jemma's homeland, and she finds comfort in her beautiful Sidney by-the Sea community where she lives with her husband. She enjoys meandering through her community and saying hello to her neighbors, collecting sea glass from the nearby beaches, and forever searching for pods of whales. One of her favorite pastimes is reading a good novel, with a cup of Earl grey tea, and some delicious dark chocolate.
Jemma is a Registered Clinical Counsellor with the BC Association of Clinical Counsellors. She holds a Diploma in Child & Youth Counselling, a BA in Human & Social Development, and an MA in Counselling from City University of Seattle.
This is her favorite quote by Pema Chodron: "Just where you are, that's the place to start."