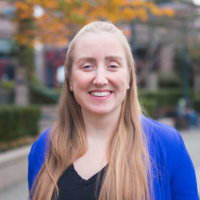 Jen Martin
Exercise Therapist
Vancouver, Virtual
Jen has always had an interest in supporting people through movement and activity. This led her to pursue her Bachelor of Science Degree in Biomedical Physiology and Kinesiology at Simon Fraser University, with a specialization in Active Health and Rehab, completing in 2011. Since then she has worked with different population groups and has extensive experience implementing cognitive remediation, life skills, exercise programs and pool programs to support people in their return to function and work goals. Jen's past experience includes both exercise prescription for athletes as well as program design for patients with musculoskeletal injuries and other medical conditions, working for the city of New Westminster.
She is a certified Kinesiologist and registered with the British Columbia Association of Kinesiologists. Jen is also a Certified Senior Fitness Instructor and Certified instructor with the 'Together in Movement and Exercise' program, welcoming people with balance and mobility challenges to exercise. Jen has completed Dr. Prue Cormie, EX-MED Cancer PD, a professional development course for exercise specialists working within the cancer care field.
She joined the InspireHealth team as an Exercise Therapist in 2018 and was thankful to find a place where she can use exercise as therapy to help meet people where they're at. Cancer has had a big impact in her life, and she feels very grateful to work at a place where she can meet people going through their own cancer experience, and help support them. When not in the center, she can be found on the soccer field coaching and playing with every spare minute of free time.