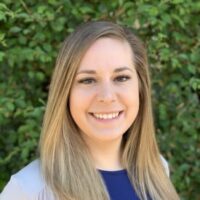 Alyssa Jackson
Exercise Therapist,
Clinical Exercise Physiologist
Kelowna, Virtual
Alyssa was first inspired to pursue education in the field of exercise sciences after spending her youth competing in the sport of Artistic Swimming. As her schooling progressed, she changed her focus from athletics and learned everything she could about clinical populations and how to help people improve their health and wellness while managing chronic health conditions. Alyssa completed her Bachelor of Human Kinetics in 2012 at the University of British Columbia Okanagan and, shortly after, became a Clinical Exercise Physiologist with the Canadian Society of Exercise Physiology (CSEP).
Since then, Alyssa has gained experience working with individuals before and after joint replacement surgery, in cardiac and pulmonary rehabilitation, in diabetes prevention, and in the management of many other chronic conditions. She is a certified group fitness instructor with a special focus in older adult populations, gentle yoga classes, and aerobic exercise. Alyssa cares deeply about supporting people in discovering their own path towards better health and helping them to participate in the activities that bring them joy.
Alyssa is furthering her education in the area of nutrition, and in her spare time can be found coaching Artistic Swimming and making sure to enjoy everything the beautiful Okanagan Valley has to offer. Alyssa is honoured to be a part of the team at InspireHealth and to work with others who share her passion and belief in the benefits of a holistic approach to health and cancer care.