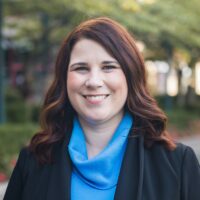 Sarah Reid
Director of Development & Marketing
Vancouver
Sarah has over 15 years of development and marketing experience and has helped some of Canada's largest health charities take their programs to new levels.
Prior to joining InspireHealth, Sarah held leadership positions at Diabetes Canada and Heart & Stroke. During this time, she brought her passion for a person-centric approach to development, launched new national fundraising programs, and drove strategic growth in digital fundraising.
Like many others Sarah's family has been impacted by cancer, and that experience highlighted the importance of holistic health and wellness practices for both patients and their support networks. She is honoured to be part of the InspireHealth team and is committed to help make a difference in the lives of those affected by cancer across British Columbia.
In her spare time Sarah enjoys spending time with her husband and two dogs Zola and Emme, being close to water on kayaks or paddleboards, crocheting, and trying out new recipes.